Both individuals and businesses must establish a strong online presence in the digital world. Webflow has become increasingly popular as a result of the need for websites that are both attractive and functional. Because of its intuitive layout and powerful capabilities, Webflow has become a top platform for web development. A Webflow developer with a little "Webflow Wizardry" is still required to build a truly exceptional website.
The first and most obvious quality of a Webflow Wizard is that they should be experts at using Webflow. They must know the various responsive features, interactions, and design tools. A rudimentary grasp of HTML, CSS, and JavaScript is also important for customization and advanced functionality.
Creativity and Design Skills
They must have a great eye for Webflow website design since it is a creative playground. They must be able to create original, aesthetically attractive layouts that complement the needs and brand of the customer.
User Experience (UX) Focus
Understanding the value of UX concepts, an experienced Webflow developer develops intuitive, user-friendly, and pleasant websites for visitors.
Problem-Solving Abilities
The Webflow developer is skilled at solving challenging issues. The world of web development is full of hurdles. They don't back down when faced with code or design challenges; instead, they take them head-on with tenacity and creativity.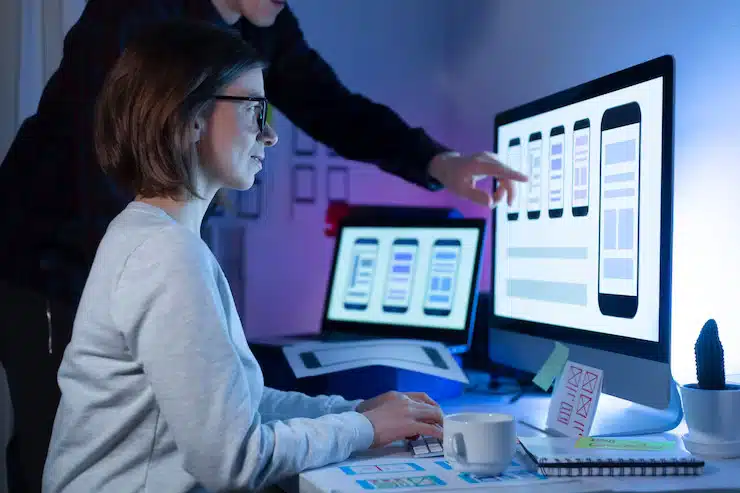 The website's design and functionality are meticulously considered by an efficient Webflow developer, resulting in pixel-perfect layouts and a fluid user experience on all devices.
Time Management and Communication
It's critical to meet deadlines in the quick-paced world of web development. A Webflow developer is skilled at time management and can do high-caliber work in the allotted time. They also have good communication skills that help them comprehend customer needs and work well with others on the team.
A dynamic platform, Webflow often introduces new features and upgrades. An experienced Webflow developer keeps up with the most recent developments regarding trends, tools, and best practices. They always work to advance their talents and keep one step ahead of the curve because of their passion for information.
An indication of a Webflow developer's ability is a solid portfolio. It displays their previous works while showcasing their talents and effective applications. They also have the knowledge to deal with varied issues because of their experience managing various initiatives.
Passion and commitment are necessary for Webflow development. A developer must be passionate about creating excellent websites. Because they are passionate about what they do, they go above and beyond to get excellent outcomes.
Finding a competent developer may seem difficult, but these practical approaches can aid to hire a Webflow Developer:
Look for developers whose portfolios match the specifications of your project. Strong portfolios demonstrate a candidate's inventiveness, abilities, and experience.
Check Reviews and Testimonials
Look for comments from former clients to evaluate a developer's professionalism, communication, and capacity to fulfill deadlines.
Conduct Technical Assessments
Conduct technical evaluations or present a sample work relevant to your project to gauge their understanding of Webflow and problem-solving skills.
Webflow development services combine technical expertise with creativity, problem-solving ability, and commitment. You can choose a  Webflow developer for your development needs by evaluating portfolios and conducting relevant technical exams. Utilize the skills of an efficient Webflow developer to expand your online presence.
1. Why choose a Webflow developer?
Webflow developers offer creativity, expertise, and seamless user experiences.
2. Can Webflow handle e-commerce sites?
Yes, Webflow supports e-commerce functionality for online stores.
3. Is Webflow SEO-friendly?
Yes, Webflow offers SEO tools to optimize website rankings.
4. How do I find a skilled Webflow developer?
Check portfolios and reviews, and seek recommendations for the right fit.