Prototype to Responsive Designs
Want to transform your Figma designs and prototypes into functional and responsive designs? We are happy to help!
The WordPress content management system is usually used for managing websites. But WordPress will only help with the basic design of the website. When you are in need of a web design tool, Figma will come to your rescue. 
Figma will help you create the website layout with unique themes and images. Prototypes with responsive designs created using Figma can be well-displayed on different screen sizes, like mobile, desktop, and tablet. Once you have created your desired Figma layout, our developers will use their coding skills to convert it into WordPress.
Benefits of Prototype to
Responsive Design
We use a proven approach to ensure optimum quality and timely delivery.
Our designers will look at the prototype and understand the goals of the clients. It will ensure that errors and misunderstandings are reduced during the development phase.
Next, our developers will use the best coding practices to develop the WordPress site. We will try to abide by all the rules set out by the WordPress foundation and community.
Testing, Optimization, and Delivery
We will focus on testing and optimization to abide by the highest standards. We will follow the speed and technical criteria set out by Google and other search engines.
Our expertly-crafted websites will ensure that your business reaches new heights of success. We can help convert your prototype to WordPress/ Shopify/ HTML/ React, irrespective of whether you want a website, an online shopping site, or a landing page. Here's a quick look at our services: 
Figma/ Adobe XD/ Adobe Photoshop/ Adobe Indesign to WordPress Website Conversion
Our web developers can use the latest technologies to convert your Figma, Adobe XD, Adobe Photoshop or Adobe Indesign site into WordPress Website. We start with assessing your design and sorting it out. We have powerful stacks to separate JS and CSS files required by different templates into neat packages for optimizing website speed. We use the best plug-ins available in the market. In the end, we will test the website on different operating systems, browsers, and devices for optimal functionality.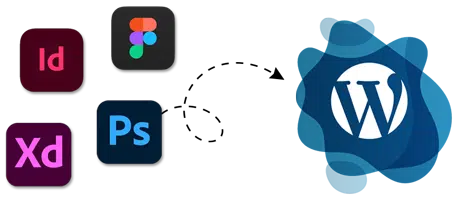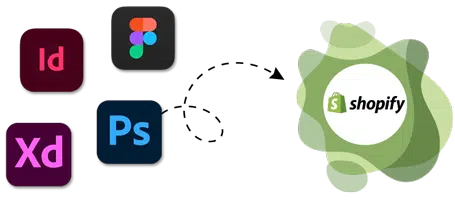 Figma/ Adobe XD/ Adobe Photoshop/ Adobe Indesign to Shopify Shop Conversion
When your Figma, Adobe XD, Adobe Indesign or Adobe Photoshop mockup is ready, you can launch your shop online with the Shopify plug-in. We have the required tools and experience to convert your layout into a fully-functional eCommerce site. We analyze all the design files before going ahead with the coding and take functionality requests from clients. Our developers work on separate HTML files and later write code to develop the backend of the site.
Figma/ Adobe XD/ Adobe Photoshop/ Adobe Indesign to HTML/ Front-End Conversion
When clients want a website with static design, we help them switch their design to HTML. It ensures faster loading time and less overhead to make your website shine in the crowd. With our team taking the charge, you can get your Figma, Adobe XD, Adobe Indesign or Adobe Photoshop site converted into HTML or front-end sites.
We guarantee a mobile-friendly HTML conversion and ensure that your website doesn't use unnecessary data. Other than that, we also provide an excellent UX design, supporting smooth navigation.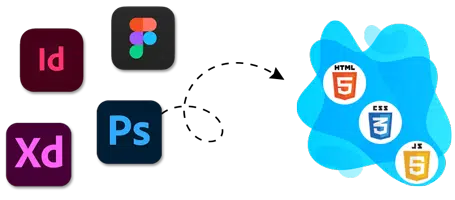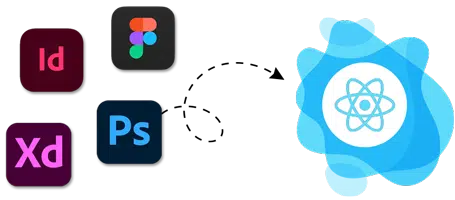 Figma/ Adobe XD/ Adobe Photoshop/ Adobe Indesign to React
Creating React components that appear the same as the design they represent can be quite complex. But our expert professionals can help convert your design layouts into production-ready React.js code in no time.
So, whether it's an Adobe XD, Adobe Photoshop, Figma or Adobe Indesign site you wish to convert to React, we will make it happen successfully.
Wondering how your Figma to website conversion process works? Here's what we do:
We use the latest technologies in the market to transform your Figma layouts into responsive, functional, and bug-free websites. We use programming languages :-
What is the main advantage of application prototyping?
Mobile app prototyping is a working model of how a future application will work. The process is extremely important for both developers and the client. Emerging entrepreneurs and startups have tremendously brilliant business ideas but they do not know how the final result will be. Here comes the vital role played by mobile app prototyping and strategy. 
How does application prototyping affect existing scenarios?
Application prototyping has made it possible to test the idea at various levels. Now business entities can know which aspects of their idea need to be improved and what changes are required. All this can be done before investing in the development of the final app. Prototyping helps in saving a lot of time and money.
How long does it take to build a heavy (complex) prototype?
Our team is strongly committed to serving clients by fulfilling all their requirements. The development time of a prototype depends on the project and its requirements and thus it will vary for all projects. We have a team of experts who can provide you with a final estimation.
How long do you provide support after-service?
Our team is ready to assist clients in every possible way after we deliver them the product. Our after services are free of cost for the 15 days and if required then we have a paid AMC (Annual Maintenance Contract) in which we provide support based on project requirements. 
How do you ensure service quality? 
At Developer Bazaar Technologies we have a team of expert professionals who have immense knowledge of their field. We make sure while working for our client's requirements are done ethically. Our team is dedicated to fulfilling all the requirements of clients and serving them with the best quality IT services and solutions.
For your business, choose only the best
Choose Developer Bazaar Technologies!