On 13th April 2022 "India@75: The Road Ahead for MSMEs" A 4th annual mega-conference is being organized at Hotel Taj Palace, Chanakyapuri, New Delhi. With extreme pleasure, we are delighted to share that from Developer Bazaar Technologies Mr. R.M Mishra and Mr. Arpit Vaishnav are going to participate in the conference.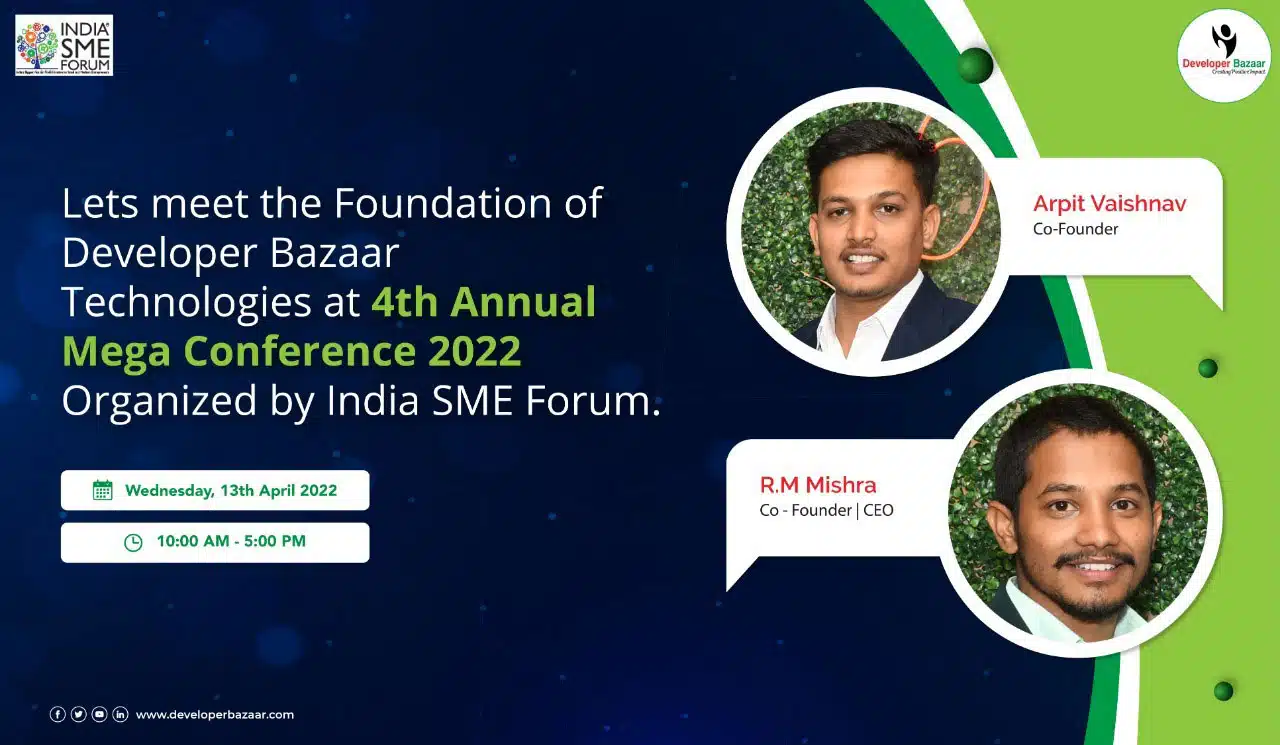 At the conference many honorable speakers like Dr. Aruna Sharma – Former Secretary, Ministry of Steel, Mr.Vinod Kumar – Hon.President India SME Forum Ms. Alka Arora – JS-ARI & CMD NSIC – Ministry of MSME, Ms. Nirupama Soundarajan – CEO, Pehle India Foundation Ms. Jyoti Sudhir -Director & COO, Invent India, and more will be present.
The conference timing is from 10 am to 5 pm. At the conference there are 4 panel discussions. In the first one, the discussion will be held on women's entrepreneurship and unlocking the women's entrepreneurs' potential.
The number of women entrepreneurs is growing rapidly in India. Honorable speakers here are Ms. Alka Arora – JS-ARI & CMD NSIC – Ministry of MSME, Ms. Nirupama Soundarajan – CEO, Pehle India Foundation, Ms. Jyoti Sudhir – Director & COO, Invent India, Ms. Shaili Chopra – Founder, SheThe People, and Mr. Alok Mittal – CEO Indifi Technologies.
How to boost entrepreneurship in India, what is the potential of women entrepreneurship, the role of digitalization and e-commerce in the growth of women entrepreneurs, development of a conducive ecosystem in India for Women Entrepreneurship, increasing credibility of women entrepreneurs to easily get the access to the finance and more will be discussed.
How to accelerate rural enterprise for de-accelerating migration is next topic of panel discussion. Boosting the number of enterprises from the rural part of India is needed now. Honorable speakers are Mr. Shailesh Kumar Singh -Additional Secretary and Development Commissioner, Ministry of MSME, Govt. ofIndia, Mr. Shantmanu -Development Commissioner – Handicraft, Ministry of Textiles, Govt. of India, Dr. Sudhanshu – Secretary, APEDA, Ms. Vineetah Hariharan – Public Policy Expert & Senior Consultant – World Bank Mr. Vijay Sardana – Advocate, Supreme Court of India, Mr. Munish Sharda – Group Executive & Head – Bharat Banking, Axis Bank.
They will be discussing making rural enterprises the biggest support system of India, increasing the number of rural enterprises and de-accelerating migration, what are the different challenges faced by rural enterprises and what is the solution, digitization for bringing a revolution in rural enterprises, and more.
Readiness of business for internationalization is the third panel discussion topic and will be discussed by honorable speakers Ms. Prafulla Agarwal – Executive Director, CBRE, Mr. Bharat Wakhlu – Founder &President, The Wakhlu Advisory, Mr. Amit Chatterjee – Managing Partner, RLaCM, Mr. Karl Freedman – Vice President,Wamser+Batra.
They will be discussing points like making export easy by having a robust infrastructure and good logistics support, what are challenges faced while scaling up and their solutions benefits of Indian MSMEs becoming part of the global value chain, and more.
Boosting the MSME economy for creating Brand India, Making in India for the world will be the topic of 4th panel discussion. Here the honorable speakers are Ms. Meeta Rajivlochan – MemberSecretary, National Commission for Women, Mr. Gurcharan Das – Author, Commentator, Public Intellectual, Mr. Pralhad Kakar – BrandGuru, Mr. Deepak Srivastava – Country Manager, UPS Express, India, Mr. Ajay Thakur – Head BSE SME andStartups , Mr. Munish Sharda – GroupExecutive & Head – Bharat Banking, Axis Bank, Mr. Nilay Varma – Co-Founder, Primus Partners, and Mr. Prakhar Kasar – Business Head, Mybiz: Makemytrip.
How technology is leading the coming future for MSMEs, MEMEs creating brand India across the world, how AI and machine learning are capable of solving the issues faced by MSMEs, and more will be discussed by the speakers.
In between, there are a fireside chat sessions too along with these four-panel discussions. Team Developer Bazaar Technologies is looking forward to participating in the conference and getting an opportunity to learn from the leaders of the country their knowledge and experience.